Continuing the theme of wonderful people on our service, I'm delighted to write a few words about carousel animal carver Royal Corwin. Royal was a mechanical engineer with Tektronix. Near the end of his career, while on vacation, he found out about a wood carving class held by master carver Ken Means in Coquille, Oregon every Saturday. Royal was a quick study, finishing all the first rough pieces in a week. From then on, he was deeply engrossed in his new hobby.
His favorite piece remains a full-sized horse named Heiden, who is wearing a suit of armor. Carving and assembling all the pieces was a 350-hour project! The horse is made of basswood, and the body is hollow. Once its 8 pieces were assembled, the remaining carving work was done by hand, with no power tools. Then it took another 60 hours to apply the various layers of paint! Heiden was carved in 1996 and bought by a collector to display at home. That purchase proved to Royal there was a market for his artwork, and he made additional carvings with the idea of bringing beauty and happiness to people every day, not just when they visited a carousel. Some of the wonderful animals he chose to create were a donkey with roses on his harness, a giraffe with a butterfly on its tail, and a cuddly panda with a sprig of bamboo.
Below is a photo of Royal showing the process of making Heiden and a springing hare.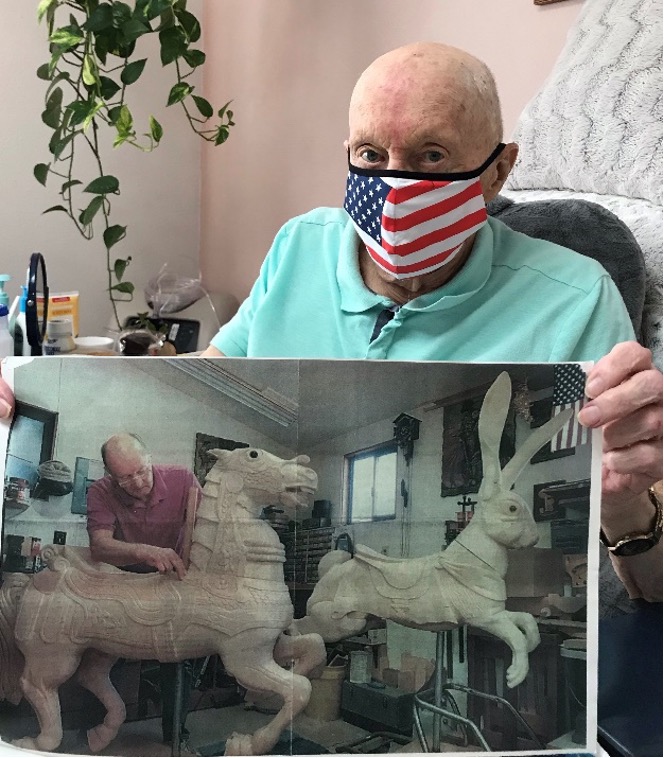 And below here is an image of Heiden finished and painted.  What a beauty!