From Care Partner's New CEO, Tracy Villarreal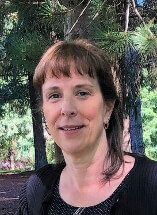 I've been a part of the Care Partners family for about 20 years, and I'm excited and to transition from my previous role as Director of Quality, Compliance, Social Work and Spiritual Care to CEO. 
Being part of a nonprofit offers so many opportunities to make a difference in individual lives and in the fabric of the communities we serve!  Through these challenging times, our employees and volunteers have pulled together to support people in their time of greatest need. I hope you enjoy reading some of their stories.
The Nonprofit Difference in Action

One of the most difficult parts of serious illness is worrying about your children's future and how they will manage without you.  Parents can be overwhelmed thinking about the unknowns ahead of them. We believe that lack of insurance coverage shouldn't be an added concern.
A young uninsured mother with cancer, L., was living with her teen-aged daughter who was in her senior year of high school.  We ordered L. a hospital bed when she enrolled with us.   At the follow up visit, we saw that her daughter was sleeping next to her on the floor. Although outside of our usual services, Care Partners ordered a second bed so they could be closer together and hold each other's hands during the night.  
L. was determined to see her daughter graduate, and we were hoping that our excellent care would help her reach this goal. Unfortunately, COVID intervened and graduation was cancelled. The following week L. passed away with her daughter at her side, peacefully, knowing that our social worker had been organizing ongoing support.  As a final contribution, we used a generous donor's gift for her daughter's first rent payment while she was waiting for formal housing assistance.
Another mother, R., with two lovely children, a husband and extended family, made the decision to stop chemotherapy so she could spend time at home with the help of our hospice team.  Since she was also without insurance coverage, we agreed to take on her care, although we knew it would involve multiple costly procedures every week to keep her comfortable.  R's hope is to live to see her daughter's 10th birthday.  Even if cancer progression prevents that, she is enjoying each day with gratitude for the help of her nurses and aides that makes this family time possible.  Some of you may have been following her story on our Facebook page.  We would like to help her daughter process her mother's terminal illness through art therapy.  In addition to the art therapy sessions, Care Partners is aiming to raise additional funds to cover her high-cost procedures for a total of $5,000 for this family.
Just before this newsletter was produced, we received a card from a young woman whose mother was on our service several years ago.  She was deeply impressed by the care her mother received from us, despite having no insurance.   She chose to study nursing and is now a hospice nurse herself in Salem, OR.  This is a wonderful example of how our nonprofit mission helps build and sustain community.
Help make a difference for this family and DONATE TODAY
Volunteer Spotlight - It's a Family Affair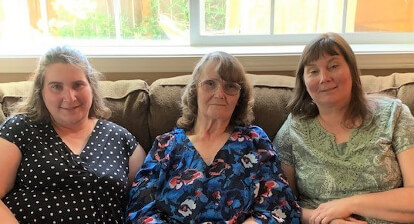 Care Partners volunteer and expert quilter, Sue Duckworth (center), heard about our need for cloth masks during COVID and she knew she could make a difference.  She collected her leftover quilt scraps, rounded up her daughters and got busy!  Daughter Denise found the mask design and shops for fabric.  Sue makes the masks and attaches the ties, and daughter Jenny does the finish stitching.  Together they can complete 150 masks a week, and have made over 400 just for Care Partners!
At 72, Sue still has the energy and dedication to work on masks for 6-10 hours/day.  One of her favorite parts is choosing different fabrics to appeal to different personalities.  She also enjoyed experimenting to find good replacements for elastic, which was backordered for months.  Sue is planning to keep making masks as long as they are needed.  Always modest, Sue says "I didn't start this to be recognized".  We are grateful and delighted to honor her efforts.
Alliance Partners - Better Together

When the COVID pandemic restrictions were announced, there was an immediate shortage of PPE.  Small nonprofits like us had no chance of getting supplies through the usual sources, but we knew our nurses had to have N95 masks in order to keep themselves and patients safe during visits.  ONHA to the rescue! 
The ONHA hospice in Klamath Falls received a generous donation of N95s from a local high school, so they decided to share their good fortune with other ONHA affiliates.  They sent a significant number to our staff for the care of our patients and families.  With careful management (covering the masks with cloth and shields in order to reuse them) we were able to get through the worst weeks.  For our patient R. in the story above, they, along with our sister hospice Lumina, also sent an initial quantity of the specialized supplies she needs.  We are all sharing educational resources, and Lumina's geriatrician offered their webinar content from UCSF on the health effects of loneliness, which we will be presenting shortly to our clients.  It's great to know that we can rely on cooperation rather than competition to help all of us succeed in our nonprofit mission!
Working with Immigrant Communities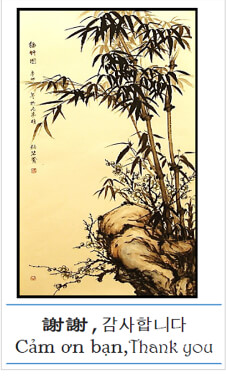 Recently, Care Partners was invited to present to the staff and Cancer Care Navigator volunteers of the Asian Health & Service Center.  Our Associate Medical Director, Bill Dronkowski, MD (aka "Dr. D") gave an overview of palliative care, goals of care conversations and hospice that was much appreciated.  Dr. D is always happy to share his knowledge, as well as to consult with individuals and families.  Across healthcare, there is a shortage of certified palliative care expertise, and sharing that expertise in ways that are appropriate for people of various cultures and faiths is an important part of our mission.
More Ways to Support Care Partners' Mission
The option for donating a car, boat or RV is now available through a link on our DONATE page to Volunteers of America Oregon.  Everything is taken care of – all you do is select Care Partners from the list of participating nonprofits and fill out the contact form, and they do the rest.
THANK YOU TO OUR 2020 DONORS
The challenges of end-of-life caregiving and grieving are universal, and COVID continues to make these challenges even more difficult.  We and the people we serve are so grateful for the support of our community.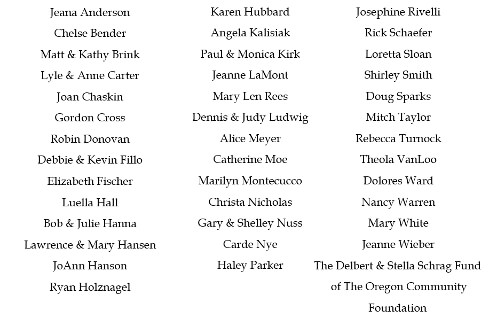 Join Us and Make a Difference